Introduction
Microsoft announced the general availability (GA) of Viva Learning on 2nd Nov 2021 in the Microsoft Ignite event. Viva Learning is one of the four pillars of Microsoft Viva - Employee Experience Platform (EXP) introduced by Microsoft to help companies empower their workforce to perform at their best, in the current world of flexible working.
According to the World Economic Forum report published in October 2020, the rapid acceleration of automation and economic uncertainty caused by the pandemic will shift the division of labor between humans and machines, leading to 85 million jobs being displaced and 97 million new ones created by 2025. Taking this into consideration, most enterprises globally have seen this shift coming for the last few years and have invested millions even billions in "future proofing" their employees, arming them with the skills needed for the new world of work.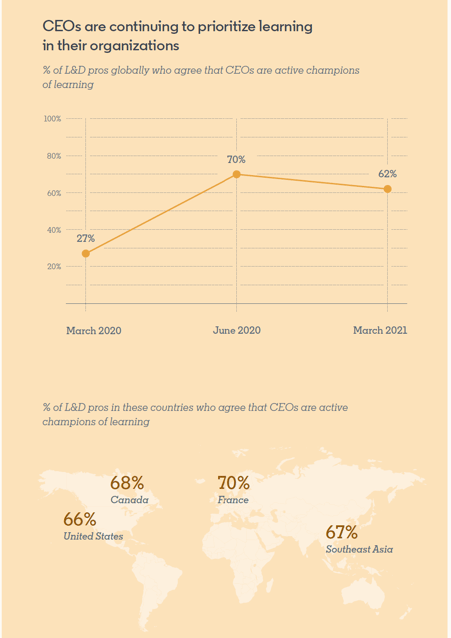 Source: LinkedIn Learning Workplace Learning Report 2021
Microsoft Viva Learning aims to create a true learning culture by removing the traditional obstacles by making learning a natural part of the day organizations can build a thriving culture with engaged and satisfied employees.
This blog helps you take a closer look at the Viva Learning offerings and path forward which is introduced with a mission to bring learning in the flow of work for rapid upskilling, reskilling, and developing internal mobility within the organization.
Learning in the flow of work:
The four main pillars of Microsoft Viva are Insights, Topics, Learning, and Connections. The common benefit is obviously to link different existing modules in Microsoft Teams.
Viva Learning helps employees acquire knowledge in an easy way by engaging with the appropriate content when and where they need it.
According to a recent study, HR and business leaders indicate that building was their number 1 initiative for 2021. But the biggest challenge is how do we effectively integrate learning into employee workflows? Viva brings learning into the flow of work by creating a center for learning in Teams and other Microsoft 365 apps. Employees can access, share, and collaborate on all the learning content available to your organization right in the tools that you use for work and collaboration. From formal training videos to informal learning content such as Microsoft Word documents and Microsoft PowerPoint decks stored in SharePoint Online, it is a one-stop shop for learning where all the content is curated in one place.
In addition to LinkedIn Learning and Microsoft Learn, Viva Learning can integrate content from leading third-party providers such as Skillsoft, Coursera, Pluralsight, and edX into this new learning ecosystem. Learning management system providers Cornerstone OnDemand, Saba, and SAP SuccessFactors can also be integrated with Viva Learning. In the upcoming releases, there will be publicly available APIs, so customers and Microsoft partners will be able to interact with Viva Learning. Viva Learning makes it possible to share learning content and training, share learning content via chat, and pin curated resource collections into Microsoft Teams channels and special tabs.
Managers and leaders can recommend content to team members or create dedicated learning spaces in Teams channels to promote critical initiatives and accelerate onboarding. With a personalized My Learning view, it's easier than ever to find the right content at the right time, so employees can take control of their own learning journey or help their colleagues grow too.
From a broad perspective, Viva Learning addresses two main challenges in an enterprise in training the workforce:
Modest participation in learning

Constrained employee bandwidth for training
The learning opportunities offered by Viva Learning aim to increase job satisfaction, well-being, and business success by bringing learning into the flow of work.
Viva Learning Conceptually

: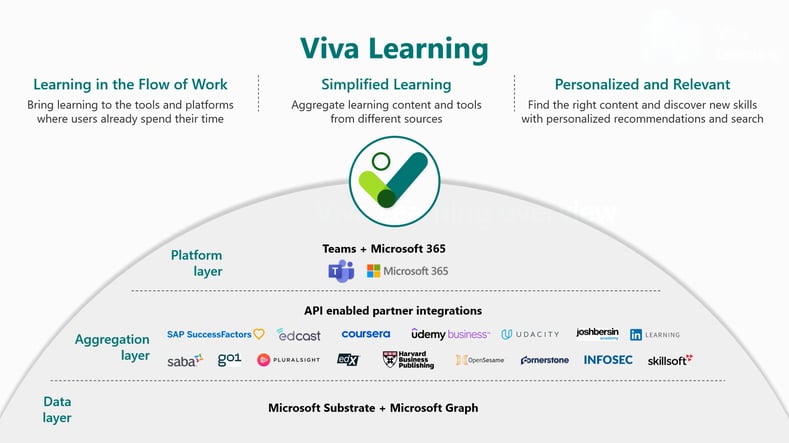 Viva is built upon three pillars:
Learning in the flow of Work - Bring learning to the tools and platforms users already spend their time

Simplified Learning - Aggregate learning content and tools from different Sources.

Personalized and Relevant - Find the right content discover Skills with personalized recommendations and search
Viva Learning is logically segregated into three layers:
Platform Layer - In this layer, User experiences learning, it's primarily in MS teams but this content is also wherever users are across the Microsoft 365 stack, this can be SharePoint or Microsoft search in Bing, it can be office.com, Outlook or other modules as well
Aggregation Layer – This is the layer where Viva learning brings together all the different learning systems that an enterprise has access to, Microsoft is closely working with all of the partners whose logos you see in the image to integrate their content with Viva learning.
Data Layer – Drive a learning culture to intelligent recommendations all personalized for the individual learner and derived from the powerful insights that are acquired from the Microsoft graph and the Microsoft substrate.
Viva Learning makes all of the learning available in one place which reduces bouncing between different point solution applications and different unfamiliar User Interfaces (UI), Learning management systems, products, and tools that employees don't spend their typical day. Here is a snapshot of how the Viva Learning app looks like: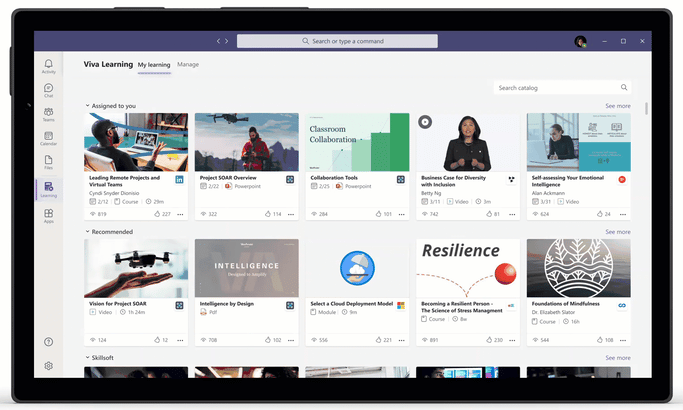 It helps leaders with tools to assign learning content and track reported progress, Viva Learning will enable them to close the skills gap while creating an agile workplace where learning and growth are paramount.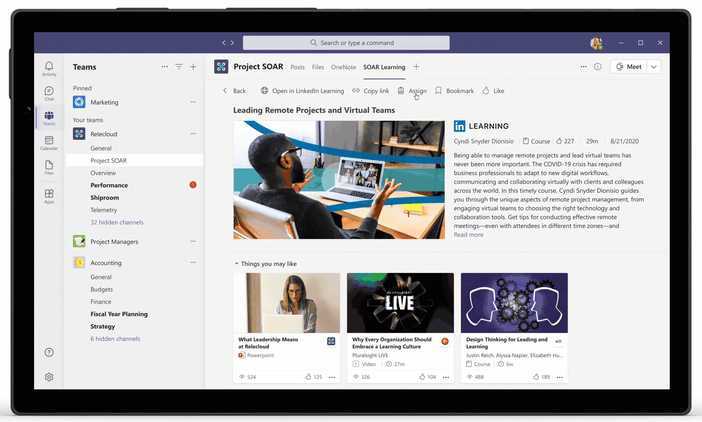 The app will also provide reporting capabilities that display all learning tasks created by a manager for their team members with due date and edit status reported by the team members.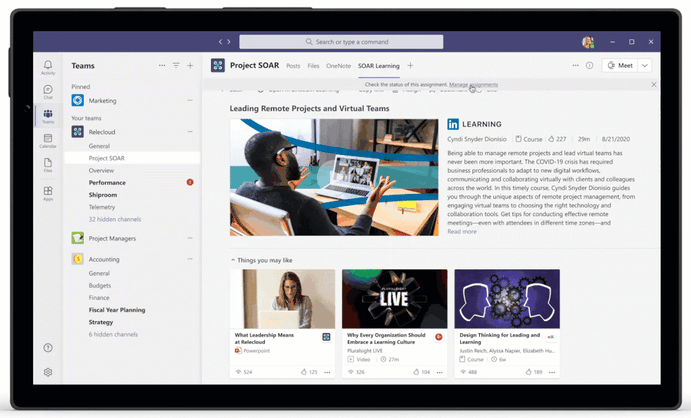 Employees will be able to see the learning content assigned to them along with due dates and other important information – whether from a manager with Viva Learning or through Microsoft's planned integrations with leading learning management systems.
Companies should support cultural change and individual growth by helping their employees take time for training before their schedules overflow. The Viva Insights app for teams, as well as Cortana's briefing email, will include actionable maps that make it easy to book targeted time for training.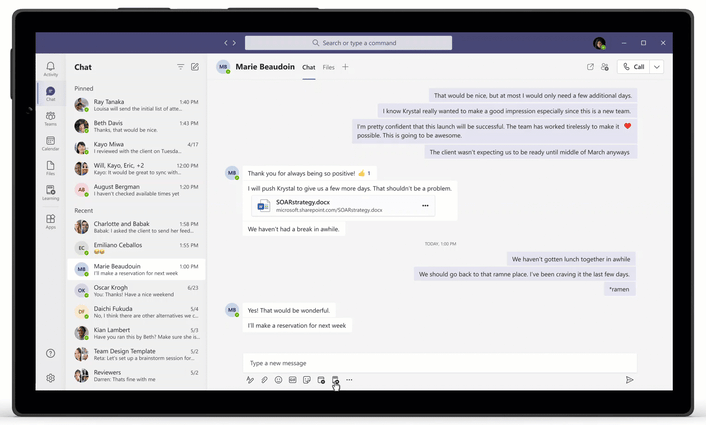 The learning options with Viva
Users can start using Viva Learning today if you have Office 365 SKUs mentioned under Basic section. Some more premium capabilities are unlocked by purchasing one of the three add-ons SKU's that are mentioned in the Premium section.
BASIC

Premium

SKU's:

· Microsoft 365 Fl/F3/E3/A3/E5/A5

· Office 365 F3/E1/A1/E3/A3/E5/A5

· Microsoft Viva Learning

· Microsoft Viva

· Microsoft Viva with Glint add-on

Features:

· Viva Learning app in Teams (desktop & mobile)

· Access to 125 LinkedIn Learning courses, as well as full library Of Microsoft Learn and Microsoft 365

· Trainings

· Integration Of the full LinkedIn Learning library (separate subscription required)

· Interests based personalization

· SharePoint integration

· Search, share, and chat about learning content

· Create learning tabs to organize learning content

· Views/bookmarks (core social features)

· View featured content

· Admin featured learning content/campaigns

· Integration with LMS (separate subscription required)

· Integration With party content providers (Separate subscription required)

· Recommendations and manage

· + More advanced features coming soon!
Roadmap F

eatures

:
The Following Roadmap features are planned in upcoming releases of Viva Learning :
Enabling the sync of assignments and completion status from our partnering learning management systems.
Making the recommendations more personalized based on the user's role skill and career and organizations requirement.
Viva Learning will be an intelligent system that anticipates your needs and presents you with the right courses at the right time. it also provides ways to define and assign learning paths for the team and the individuals so folks can have a solid plan and see how they're moving towards their goals.
Integration with other Viva modules for example surfacing relevant learning content through insights, through Viva connections, and integrations with Viva topics to bring learning closer to the topics that are common in your organization.
Utilize Viva insights and Outlook teams to help users better manage their learning priorities by adding learning time onto their calendars and managing it more effectively.
Provide more personal team and org-level reporting and analytics to help users and organizations understand what kind of training folks are finding most useful and what needs to be improved in the learning ecosystem.
Providing features to let knowledge administrators, managers, team leads, and subject matter experts within an organization to be able to create and curate content and serve it to the right audience in their organizations looking ahead fairly focusing on making learning more personalized as well as more social using features like create learning circles exchanging notes and feedback about courses and so on.
Deepening integrations with learning management system partners and allowing for greater exchange of content and signals making the integration faster as well as easier through Microsoft graph APIs
Microsoft has aimed to make learning effortless impactful and joyful. TrnDigital, A Microsoft Gold Certified Partner, can help you leverage the best in your journey towards learning through excellence.