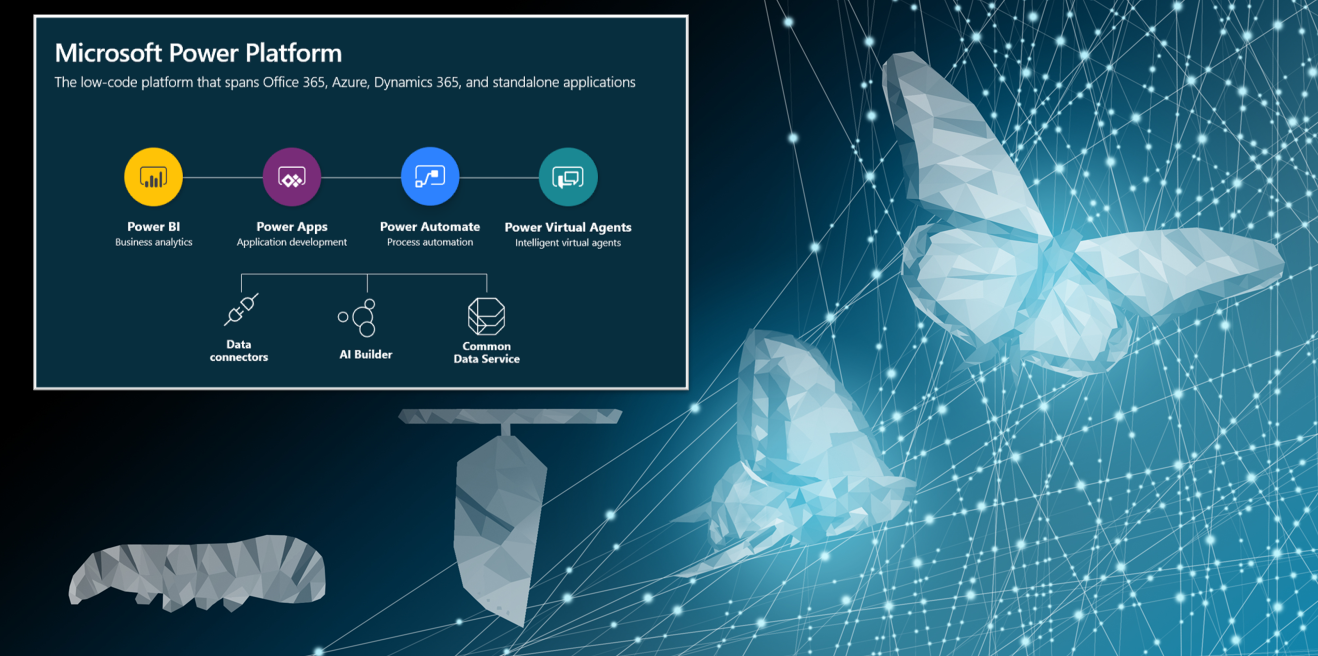 In today's world, technology has become omnipresent. Due to increasing digital services, day by day, companies/organizations can shape their growth, change the industry's landscape in a wider way. Technology catalyzes new business models, products, services, and, most importantly, the experiences.
Digital transformation helps businesses across industries, with the opportunity to rethink how they operate their business. How they empower their employees, engaging their customers (targeted audience), optimize their operations, and transform their products. Companies that have adopted this transformation visualizing greater profits have become mature in their business processes. Yet only 14 percent of the organizations have transformed themselves digitally, and out of these organizations, only 5 percent of them have mastered digital to a point where they can differentiate themselves from their competitors.
The Microsoft Power Platform boosts up the organization's creativity and innovation. The Power Platform enables the users to Analyze, Act, and Automate in a manner that helps everyone to participate and drive efficiency through digital transformation. Organizations are embracing the value of having data at the center of their business. The value of data comes from everywhere- web, social media, CRM/ERP systems, and majorly people. AI (artificial intelligence) cannot always leverage such data, and that is where the Power Platform comes in and plays its role efficiently.
The Microsoft Power Platform comprises of different applications, that allow organizations to turn bright ideas into brilliant low-code applications. The Power Platform includes the following solutions: Power BI- Business Analytics; Power Apps- Application Development; Power Automate- Process Automatic; Power Virtual Agents- Intelligent Virtual Agent.
It enables everyone to digitize apps and processes with Power Apps and The Power Platform.
What is PowerApps?
PowerApps is an assemblage of services, applications, connectors, and data platforms that offers rapid development of apps. PowerApps help business owners to customize the applications that connect the business data stored in the underlying data platform (CDS) or various online sources such as SharePoint, Excel, Office 365, Dynamic 365, SQL Server, etc.
PowerApps provide rich and mature business processes. Apps built in PowerApps run seamlessly and 'democratizes' the customized business apps by enabling users to create rich features, without writing the code. PowerApps also includes the new capability highlights such as PA Monitors, PA Test Framework, exporting existing apps to MS Teams, streamlined model-driven app experiences, improved canvas connectivity with views, and native support for images and files across the types of application.
What is Power BI- Business Analytics?
Power BI is a service of business analytics by Microsoft. It provides interactive visualizations and business intelligence capabilities with an interface for end-users to create their own reports and dashboards. It offers data warehouse capabilities, including data preparations, data discovery and interactive dashboards. One significant differentiation of the product is the ability to load custom visualizations.
The key components of the Power BI ecosystems comprise of :
Power BI Desktop – It is a Windows-desktop-based application for PCs and desktops, primarily used for designing and publishing reports to the Service.
Power BI Service – The SaaS (Software on as a Service) based on online service (formerly known as Power BI for Office 365).
Power BI Mobile Apps - Power BI Mobile Apps for Android and IOS devices, as well as Windows phones and tablets.
Power BI Gateway - Used to sync external data in and out of Power BI.
Power BI Embedded – Used to build dashboards and reports into custom applications that serve Power BI users.
Power BI Report Server – An on-premises reporting solution for companies that will not or cannot store data in the cloud-based Power BI service.
Power BI Visuals Marketplace – A marketplace of custom visuals and R-powered visuals.
What is Power Automate?
Microsoft recently, in Ignite 2019, renamed Microsoft Flow as Power Automate by adding the features of RPA (Robotic Process Automation). It helps the user to check the intelligent flows with the AI builder. The Flow Checker Repair tips are also present in this feature where the user can check the flow with the feature of Checker Repair tip which adheres to the improvement of the app. It is automated directly from the Teams. It is integrated with the Azure API Manager, which helps in creating the business process flows.
What is Power Virtual Agent?
It is a new no-code tool for building chatbots. Power Virtual Agent promises to make building a chatbot almost as easy as writing a word document. With this, anyone within an organization could build a bot that walks a new employee through the onboard experience.
Power Apps – areas of investment
AI Builder:
AI Builder, a new Power Platform capability, helps the teams with the business expertise to easily automate processes and predict outcomes to improve business performances. The power of Microsoft AI through a point-and-click experience is directly integrated into PowerApps and Power Automate.
Portals:
PowerApps Portals are a service for building and using customized business apps that connect to the data and functions of businesses across the web without spending much time on custom software development. They allow businesses to create websites that can be shared with users, either anonymously or through login providers.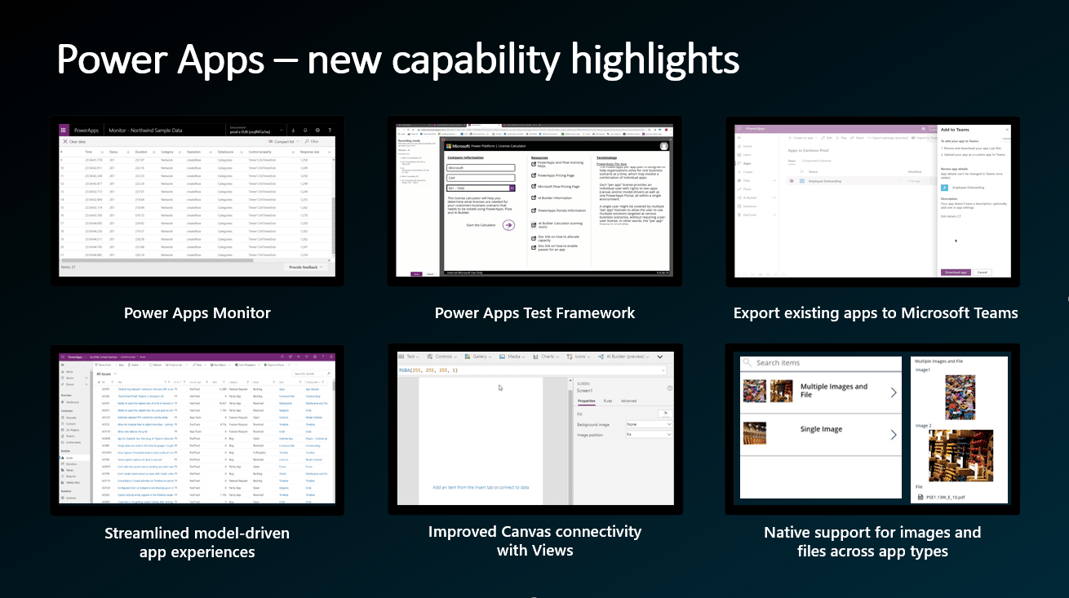 Data Culture in the world of Microsoft:
The data philosophy for Microsoft is about changing the culture so that each and every organization is empowered to do great things because of the data present at their fingertips. In this type of culture, everyone benefits something or the other when questions are asked, and multiple answers are given to those questions asked. It elevates the entire thought process and the effectiveness of an organization. The AI infuses great experiences with the familiarity of Office, meeting the needs of the demanding enterprises.
The BI is finely woven into the fabric of the organization. It allows Data Protection to a great extent. It facilitates transforming insight into action.
On a concluding note, Microsoft offers a great advantage to its customers through its Power Platform that promises effortless business app development helping each and every business firm build functionally as they have always wanted. PowerApps is a cost-effective solution, not only because it provides a free alternative to off-the-shelf software applications, but also cause PowerApps are compatible with all major platforms like Windows, IOS, Android and the Web in large. The Power Platform will not only simplify and secure organizations but will also enable every team, drive innovation, and help organizations gain competitive advantage.
TrnDigital has helped several companies integrate all aspects of Office 365 into their operations. Request a free consultation to understand how your organization can reap the full benefits of your cloud investment.